Τη συμπαράσταση του εκφράζει το AT&D Center στη μικρή Rhana
Τη συμπαράσταση του εκφράζει το Athens Training & Development Center (AT&D) από τη μικρή Ελλάδα, στον Γενικό Δ/ντή του Διεθνούς Οργανισμού e-Marketing Association κ. Robert Fleming και στην οικογένεια του, για το μεγάλο πρόβλημα υγείας που παρουσιάστηκε στη μικρή Rhana, τη 12χρονη κόρη του, και της εύχεται να γίνει σύντομα καλά.
Charlestown Girl Fighting for Her Life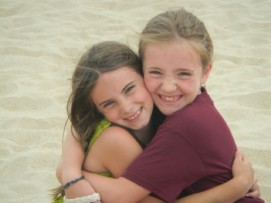 Rhana Fleming, a 12-year-old from Charlestown attending Chariho Middle School, was suddenly paralyzed last month and doctors are still trying to figure out why.
Johnson Nordlinger, a Montauk resident and the assistant to East Hampton Town Supervisor Bill Wilkinson, received a call in the middle of the night on Dec. 15: Her 12-year-old goddaughter Rhana Fleming was in the intensive care unit in a Rhode Island hospital.
Before she fell ill that day, Rhana was perfectly healthy; in fact, she is a competing gymnast, a Charlestown native and a student at Chariho Middle School.
"She woke up fine, made cookies, went to the gym and started her workout," Nordlinger said. "No one in medical history has gone from totally fine to paralyzed in six hours without blunt-force trauma."
During her warm-ups, she complained of feeling her arms grow heavy, according to a narrative her parents wrote on Rhana's Journey, a website detailing her condition.
"Within four hours her diaphragm stopped working, she stopped breathing on her own and her arms and legs were unable to move," they wrote. She is not breathing on her own.
Three weeks later, there is still no diagnosis for what happened. Doctors have described her condition as Transverse Myelitis, "a neurological disorder caused by inflammation across both sides of one level, or segment, of the spinal cord."
Swelling and inflammation of her entire spine has been seen in four of the 3 1/2 hour-long MRIs she's had. She's endured two spinal taps.
Doctors at Hasbro Children's Hospital in Providence have been unable to give a prognosis. They don't know if she'll ever walk again, let alone return to the mat.
Rhana is undergoing PlasmaPheresis, a procedure that "consists of removal of blood, separation of blood cells from plasma, and return of these blood cells to the body's circulation, diluted with fresh plasma or a substitute."
Small victories are detailed on her website. She moved her left foot on Dec. 28, causing the entire ICU to erupt in a cheer.
"She's gaining the attention of neurologists and the CDC and the international medical community due to a few factors," her parents said.
Myelitis usually affects older people with compromised immune systems. The rate at which she has deteriorated has caused great concern.
"Her case is so rare they have no medical papers from which to pull information from. There are similar cases but none like hers. Doctors are currently writing about her case from all over the world," they said.
Nordlinger returned to Montauk on Tuesday after spending much of the past three weeks with the Fleming family, helping with Rhana's two siblings, Brian, 18, and Jack, 6. Rhana's mother, Cheryl Fleming, is Nordlinger's best friend. The two met in high school in Los Angeles and Rhana and Nordlinger's daughter Katie have also become best friends.
Cheryl and her husband Robert Fleming often visit Nordlinger in Montauk and moved to Charlestown about 10 years ago. Rhana is a sixth grader at Chariho Middle School, where she is the student body secretary. A hardworking athlete, her favorite gymnast is Nastia Liukin.
"It's horrifying. She's all of our kids. You keep asking yourself, 'How can this be?'" Nordlinger said on Wednesday.
The gravity of Rhana's condition has racked up a huge medical bill — $2.5 million in two weeks, according to Nordlinger. The Flemings, who run the eMarketing Association, have insurance, but it doesn't cover all the costs.
Nordlinger is trying to raise awareness about the Fleming's situation, in the hope to raise money to help them.
"If Rhana miraculously gets better, they money will go toward someone else who needs it," she said.
Donations can be made online or mailed to Rhana Fleming, 40 Blue Ridge Dr., Charlestown, RI, 02813.
Her parents also asked that supporters leave notes of encouragement or prayers on her website by clicking on the "Contact Rhana" link.
"We read comments every night before bed and it makes her smile!"
Article originally from East Hampton Patch.
Γράψτε τα σχόλια και τις προτάσεις σας